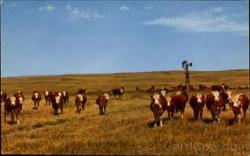 Year in and year out grazing management is the most important factor for successful and sustained range livestock production in any economic or environmental climate, and ultimately will define a producer production and marketing strategy for any given year, including drought years. The producers' production and marketing strategy, combined with business finances and prevailing market conditions will determine the producer's profit or loss. In the end, range livestock producers are in the business of forage production. A drought management plan / strategy is intended to keep producers in business. Drought management strategies may be divided into several categories, but the key point to remember is that drought management is about taking the "guess work" out of decision- making.
A drought management plan should help producers take control of their production and marketing situation. Decisions must be made in a proactive, rather than a reactive manner to minimize negative effects on rangeland and or livestock production during prolonged periods of drought. The cow-calf enterprise budget is a good management tool for evaluating the physical / production and financial implications of various drought management strategies. Section 6 of this report discusses a cow-calf cash flow enterprise budget analysis process and provides an Excel template to help individual producers evaluate production and financial implications of different drought management strategies. Sections 2 through 5 summarize different drought topic / categories of drought management that will allow the producer to develop more informed production of financial information for the enterprise budget analysis. This section is intended to help organized some of your options for your drought management plan.
During Drought, decisions may often be made on emotion rather than logic. The main goal of the following series of articles is to help producer access their individual situation and make objective decisions.
Framing the Challenge
Drought is a serious obstacle to successful range livestock management. Producers must understand how drought affects plants, grazing animals, livestock management, business finances, and what options exist.
Developing Your Drought Management Plan
Drought can happen during any season, but coupled with summer heat the effects it has on cattle producers can be quite dramatic. Dried up pastures, reduced harvested forage yields, and limited water supplies are all potential problems. These problems will affect both short and long term management decisions. Immediate attention is needed to relieve shortfalls in enterprise productivity and in some cases sheer animal and ranch survival.
Herd Health
Herd Health is also a consideration during drought. Drought may force animals to consume plants that are normally avoided and poisonous.